Many electronic devices can affect avalanche transceivers. And metal, even in food wrappers, can affect a transmitting beacon. This page contains advice based on informal testing and the manufactures' instructions. Read your user manual for specific advice.
Summary
All electronic devices should be at least 20 inches (50 cm) from your transceiver when searching and at least 8 inches (20 cm) from a transmitting transceiver. When the interfering device is actively transmitting (e.g., when you are talking on a cell phone or radio), the devices should be at least a meter away from a searching transceiver.
Searching Recommendations
When searching, your consumer electronics (e.g., phones, cameras, headlamps, heated gloves, music players, etc) need to be further away from your transceiver than when transmitting—transceivers are much more susceptible to interference when in search mode. (These devices haven't been shown to interfere with a beacon's transmissions.)
As a rule of thumb, you should keep your electronics at least 50 cm (20 inches) from your avalanche transceiver when searching. And if you are on a call on cell phone or radio, it should be at least a meter away (some manufactures say 25 meters or more)
To be even safer, turn your electronic devices off anytime you are searching (which is what most manufactures suggest). And since this would be easy to overlook during the inevitable panic of a real rescue, it best to turn them off before you enter avalanche terrain.
Here are some of the manufactures' recommendations:
The Tracker3 and Tracker S manuals recommend at least 50cm (20 inches) when searching and at least one inch when transmitting.

Most Ortovox manuals recommend at least 30 cm (12 inches) from other electronics. The Ortovox 3+ owner's manual increased that to 50 cm (20 inches).

ARVA and Mammut say electronic devices should be kept at least 50 cm (20 inches) from other electronics.
Transmitting Recommendations
It is preferable to turn your electronics off when transmitting so you don't forget to turn them off (or move them further away) when searching. If you choose to keep your electronics turned on when transmitting, keep them at least 20 cm (8 inches) from your avalanche transceiver. Although the actual distance where your electronics will interfere with your transmitting beacon is less than 20 cm, you don't want the items to get within a few inches, or touch, your avalanche transceiver if you are tumbled in an avalanche. For example, you wouldn't want your transceiver harness to shift in such a manner that your transceiver is touching a radio in a chest harness.
Metal can partially block a beacon's transmission. In our testing, we discovered that something as seemingly innocuous as a few Gu gel packs (which contain metal sandwiched in between plastic layers) can drastically shorten a beacon's transmission range. Don't keep any suspected metallic layers in a clothing pocket that might overlap your transceiver. Likewise, don't allow your cell phone, pocket knife, or two-way radio to get within a few inches of your transceiver—even when transmitting.
Sensing Interference
A few avalanche transceivers, including several ARVA transceivers (including the Neo Pro) and the Mammut Barryvoxes, will recommend a narrower search strip if they sense interference. For example, the Barryvox will display "20m" if it detects interference or that the transmitting beacon is transmitting outside the standard frequency.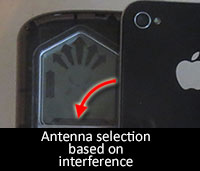 All of the Pieps transceivers that were released after 2013 have a feature where they will transmit on the shorter (i.e., x-axis) antenna if the transceiver senses interference with other electronics (e.g., a cell phone) or if there is damage to the primary (i.e., y-axis) antenna. You can test this by waking up your phone (you don't need to be on a call) and holding it against the transceiver as shown in this picture. The display will then show that the shorter antenna is transmitting.
The transceiver comparison table has rows that show which transceivers adjust the search strip and transmitting antennas based on interference.
Additional Considerations