The Pieps Powder BT/Black Diamond Recon BT and Pieps Pro BT/Black Diamond Guide BT avalanche transceivers support updates using Bluetooth enabled Android and iPhone devices. This makes it very easy to update these transceivers. You can download the apps from the Apple App Store and the Google Play Store.
The version number of the Pieps Bluetooth avalanche transceivers is displayed immediately after you turn on the device.
To update your transceiver using the Pieps App:
Turn on your transceiver while holding the Flag button pressed (this requires some finger gymnastics). Release the button when the Bluetooth icon is displayed and the blue light illuminates.
Launch the Pieps app on your phone.
Choose Device Manager in the app.
If your transceiver is not displayed in the list of transceivers, tap Register and follow the instructions.
Tap "Connect Bluetooth Device" at the top of the screen.
Tap on your transceiver.
Tap "SW Version".
After updating, you may also want to choose "Device Check" to test your transceiver.
2.3
2023?

Version 2.3:

Enhancements are not publically available.

2.2
2022?

Version 2.2:

2.1
2021?

Version 2.1:

2.0
2020

Version 2.0:

The Pro and Guide models added a "Backup Mode"
Added the ability to configure support for the iProbe.
"General improvements."

1.1
2019?

Version 1.1:

"Performance improvements."
Changed sounds in Bluetooth mode.

1.0
November 2018

Version 1.0:

First release (these transceivers were released with version 1.0 in November 2018).
Device Check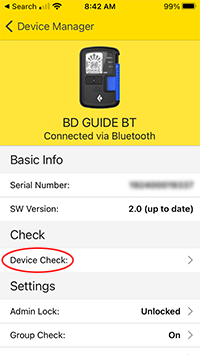 You can also use the Pieps app to perform a device check:
Follow the first four steps, above, to connect your device to the app.
Select "Device Check" as shown in this screenshot.
Move your transceiver at least one meter from other electronics.
Choose "Start"
Follow the on-screen instructions which will have you press buttons, change between Send and Search, confirm that the audio is working, etc.