Just as there isnít one car that is best for everyone, there isnít one avalanche transceiver that is best for everyone. And just as it isnít my role to tell you which car to buy, it isnít my role to tell you which transceiver to buy.

Of course, we can measure and compare car features. We can measure the braking distance, turning radius, fuel consumption, and the amount of storage space. And we can compare the seating comfort, the driverís visibility, and the arrangement of the dashboard. Which car you ultimately choose should be based on how you prioritize these features and how you plan to use your car.

Please help improve this website by reporting typos, broken links, and spelling errors. Thanks!

Similarly, the avalanche transceiver you select should be based on how you prioritize its features and how you plan to use it. If you wonít spend much time practicing with your transceiver, choose a unit with minimal features and options. Are you outfitting customers for a one-day wilderness trip? Choose the unit with the most obvious controls (ďEverybody change their transceiver to receive now!"). Are you weaning yourself from 20 years with an analog transceiver? Consider a unit that can quickly toggle between digital and analog.

All of the avalanche transceiver that are rated five stars are solid choices. Selecting from within that group should be based on how you will use the transceiver, the features that are import to you, and the price.

Although I encourage you to purchase a transceiver that is rated five stars, the four star and three star transceivers are quite acceptable. The limitation of the four star transceivers is most of them do not handle spikes whereas the three star antennas typically require significantly more skill (i.e., practice).

More important than the model of transceiver you carry is that you learn how to use it and practice frequently. I would rather travel with a skilled rescuer wearing a lower-ranked beacon than with an unskilled rescuer wearing a higher-ranked beacon. In addition to practicing frequently, you should take an avalanche course—not getting buried is the best way to survive in avalanche terrain.


Steve Achelis
PS: Purchasing Mountain Responder helps support BeaconReviews.com. It also provides a peak into the world of backcountry calamity which might help you stay safer in the mountains.
| | | | |
| --- | --- | --- | --- |
| Mammut Pulse | Pieps DSP | Tracker2 | Ortovox S1+ |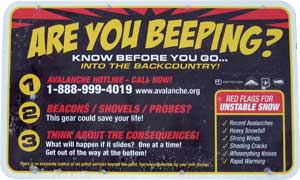 Brighton Ski Area Boundary Sign
This sign "beeps" as you walk past it to show that your transceiver is transmitting. It is too bad it can't sound an alarm if you are not wearing a beacon.