Airbags
In addition to being proficient with an avalanche beacon, how about not being buried in the first place?
The only assured approach for that goal is, quite obviously, to not get caught in an avalanche. Failing that, the selection of airbag backpacks in North America has increased rapidly accompanied with a slight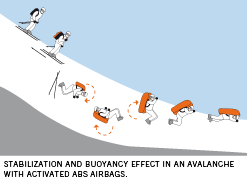 decrease in both price and weight. With Backcountry Access, the company that makes the popular Tracker avalanche transceivers, now in the airbag business, we are likely to see many more airbags in North America.
In contrast to your likely first impressions, airbag packs work not through enhanced buoyancy but instead through the principle of inverse segregation: whether in a box of cereal, a can of mixed nuts, or a moving mass of avalanche debris with entrained objects, bigger objects are more likely to stay higher in the mix. A deployed airbag pack simply makes you bigger, which helps keep you on the surface. And unlike an automotive airbag, airbag packs are typically not designed to provide protection from trauma.
So do they really work? Yes. How well? Only the original airbag company, ABS, has an established track record and almost all of the documented statistics (compiled by an independent Swiss government institute) are from European incidents which tend to occur above treeline. By comparison, a higher percentage of North American incidents occur below treeline where trees and rocks lead to a higher rate of death by trauma.

With those caveats aside, the statistics do prove that many skiers and riders are alive thanks to their airbag packs. Depending on how you interpret the data, for every 100 skiers who have died in avalanches, somewhere between 35 to 77 would have lived had they been equipped with airbag packs. Click here to see a detailed review of the data. (You can subscribe to articles like this from the American Avalanche Association.)
Offset against the increased survival rate is the high price for an airbag pack ($500 for the least-expensive models) and, for self-propelled skiers, the weight penalty of a least a few pounds (varying widely by model). In America, snowmobilers seem to have taken to the airbags more quickly than the backcountry ski and snowboard community. Maybe that's because snowmobilers have already invested serious dough into their sleds, maybe it's because the weight isn't meaningful when you have a rocket taking you up the mountain, or maybe it's because they're quicker to endorse new machinery.
The "engines" for airbag packs are currently made by the following four companies who have also partnered with other companies who make their own products:
ABS, with partners ARVA, Dakine, Dynastar, EVOC, Millet, Ortovox, Rock Snake, Rossignol, Salewa, and The North Face
Snowpulse and Mammut (the latter having purchased the former, with airbags marketed under both names) and partner Scott
Backcountry Access (the manufacture of the Tracker avalanche transceivers)
WARY, with partner Mystery Ranch
Black Diamond and Arc'Teryx who are developing battery-powered airbag packs (which are not discussed on this page)
Many dozens of different models are available, with many models being introduced and discontinued each year, as would be expected from a market in its relative infancy. The following sections highlight some significant differences across brands.
Cylinder Refilling and Airline Transportation
Many of these companies prominently quote excerpts from the relevant rules of the International Air Transport Association which state that airbags can be transported on commercial airplanes even if fully charged. The companies rarely reveal that the U.S. Transportation Safety Administration and other national regulators can devise their own rules.
The ABS gas cylinder uses compressed nitrogen, with an explosive trigger, both of which raise more potential complications and prohibitions for airline travel. Empty ABS cylinders can be exchanged for full cylinders at ABS dealers. ABS is also unique in using two independent airbags, on each side of the pack, whose benefits ABS proposes.
By contrast, the other airbags use regular compressed air and can be refilled at numerous types of facilities, including SCUBA shops, paintball gun dealers, and fire stations. This allows you to take an empty cylinder on a plane and refill it at your destination.
Snowpulse Lifebag
The various competitors also differ from ABS in deploying a single bag, which is located behind the user's head, except for Snowpulse Lifebag packs whose bag has a more complicated wrap-around design for possible trauma protection. (Snowpulse's R.A.S. bags, also sold in versions by its parent company Mammut, employ a rectangular style.)
Pack Features
If you are particular about pack features, don't take anything for granted. Some common backpack features, such as a ski carrying system and hydration bladder, are not found on all airbag packs, because some portion of the pack must split apart for airbag deployment. Do not assume anything unless you verify it on the particular pack model and model year that you are considering.
Size and Versatility
Pack volumes tend to be clustered in a fairly narrow range, from accommodating sidecountry essentials to supporting a multi-day hut-based tour. However, recent innovations have increased the versatility of airbag packs.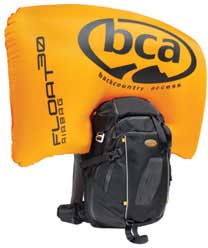 The ABS line is primarily focused on a base unit that contains the airbag mechanics plus the strap system to carry it all. Then a separate pack zips on to carry whatever else you want bring along. This allows ABS to have far more partners than the competition (since the partners need to design only the zip-on component) and allows one base unit to serve as the mechanics for multiple-sized packs in your pack quiver.
Packs designed by R.A.S. and sold by Mammut and Snowpulse allow all of the airbag mechanics to be removed when not needed, which frees up pack space and lowers the weight, and allows you to transfer the airbag mechanics to another R.A.S.-compatible pack.
Ease of Deployment
A detailed analysis of Canadian avalanche incidents in which at least one party member was knocked down or buried found that only 63 percent of airbag users were able to deploy an airbag successfully. There have also been many cases of airbags being accidentally deployed.
Your personal ease and comfort with the handle/trigger is perhaps the most important attribute of an airbag pack. Trigger ergonomics vary widely. Many designs allow the handle/trigger to be swapped by the user between the left and right shoulder strap. And ABS is unique is allowing a guide or other group leader to activate packs remotely.
Videos
Researchers at the Fraunhofer Institute for Manufacturing Engineering and Automation, in Germany, have been working with ABS Peter Aschauer to create a wireless, remotely triggered airbag. This causes all airbags to be deployed if any one airbag is deployed as shown in this video.